Employment Opportunities
The Open Door Clinic is a free health clinic for uninsured and under-insured adults in Addison County, Vermont. Our patients are our neighbors, friends, and family, keystone members of our community who work on and support local farms, restaurants, and small businesses. We also serve a special population: Latin American migrant farm workers who face profound language and cultural barriers.
We are currently hiring for two positions.
Bilingual Patient Services Coordinator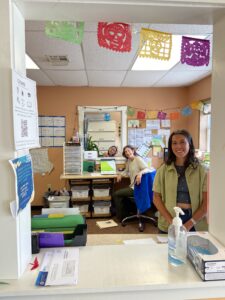 Position Summary: The Open Door Clinic is looking for a part-time (28-32 hours per week) bilingual patient services coordinator. Fluency in spoken and written Spanish and English is required. Desired skills include: attention to detail, cultural and linguistic competence, excellent communication, problem-solving and administrative support skills, experience with Microsoft Office and facility with using the internet. A bachelor's degree and prior professional experience in a medical office is preferred.
The Patient Services Coordinator works in a compassionate and collaborative manner to help patients navigate barriers to care and obtain the services they need. Along with supporting the daily operations of the Open Door Clinic, the Patient Services Coordinator also supervises volunteer interpreters and interns. A detailed job description follows.
Job Description: Patient Services Coordinator
Reports to: Combination of Director and Nurse Case Managers
Hours: 28-32 hours/week
Days: M-F, in person, or 4 days/week
Desired Qualifications:
– Fluency in spoken and written Spanish and English
– Cultural and linguistic humility
– High level of organization and attention to detail
– Strong problem-solving skills
– Excellent communication and computer skills
– Ability to multi-task
– Ability to uphold all HIPPA standards
– Previous administrative experience preferred
Duties & Responsibilities:
Patient-related
In conjunction with the Nurse Case Managers, prepare for weekly medical clinics by confirming patients, preparing charts, setting up clinic space, and coordinating non-medical volunteers (interpreters, front desk support, etc.)
Manage the midweek referrals schedule: confirm patients and interpreters, obtain notes and information regarding follow-up appointments.
Enter data from midweek appointments and case management in the VFRC (Vermont Free and Referral Clinics) database.
Review and address calls and messages on the WhatsApp business account
Help patients understand their financial obligations and payment options; track and facilitate financial assistance applications.
Provide tech support for telehealth consults.
On occasion, interpret at clinic and referral appointments.
Volunteer-related
Co-lead trainings for new volunteers.
Orient new volunteers and interns to office and clinic procedures.
Update spreadsheet and communicate directly with volunteers to coordinate interpreters and general admin support for clinic, referral appointments and special events.
Supervise summer and winter interns.
Office-related
Answer the phone and field questions and referrals.
Complete or delegate administrative tasks.
Translate documents and create new handouts, as needed.
On occasion, represent the clinic at public events.
Maintain an organized and efficient office environment.
Compensation range : $21-$24/hr, 3+ weeks combined compensated time off per year and a scaled benefits purse.
How to apply: The Open Door Clinic offers competitive pay and a collaborative work environment. Please send a cover letter, resume and contact information for three references to [email protected] or Open Door Clinic, 100 Porter Drive, Middlebury, VT 05753. At least one reference should be able to speak to the applicant's language ability. Please apply by October 1st, 2023.
Questions? Contact [email protected] or (802) 388-0137.
Part-time Dental Hygienist
Position summary: Open Door Clinic is seeking to hire a registered dental hygienist (RDH) to work 1-2 days per week in our dental clinic, located at Middlebury Dental Group. The hygienist will provide dental care, oral health education, referrals, and associated services to our diverse patient population. There is also potential for outreach screenings.

Desired qualifications: Excellent communication skills and ability to work both independently and as part of a team. While individuals with Spanish language ability are strongly encouraged to apply, we also provide interpreters for our Spanish-speaking patients. The Open Door Clinic offers competitive pay and a collaborative work environment.
How to apply: Please send a cover letter, resume, and contact information for three references via email or mail to: Heidi Sulis, Executive Director, Open Door Clinic, 100 Porter Drive, Middlebury, VT 05753, at [email protected].
Questions? Contact Dental Coordinator Fernanda Canales, at [email protected] or (802) 353-8291.
ODC is an Equal Employment Opportunity employer. Those from BIPOC communities, immigrant communities, women, the transgender and non-binary community, as well as the LGBTQIA+ community at large, individuals with disabilities, and other marginalized communities who have experienced systemic oppression and/or gender-based violence are highly encouraged to apply. ODC believes that one of the greatest strengths of a community is a rich diversity of perspectives.