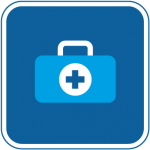 The Open Door Clinic is by appointment only. We hold clinic on Tuesday nights and one Friday morning each month in Middlebury. We also hold dental clinics on Monday.
All the services provided at clinic are free of charge for the patients. We see:
Uninsured individuals up to 300% of the federal poverty level
Under-insured individuals whose health insurance deductibles exceed 10% of their gross household income
To see if you qualify to be seen at the Open Door Clinic, please click here.
Are you eligible? To schedule an appointment, please call 802-388-0137.
At the Open Door Clinic, health care is provided in a compassionate, respectful and culturally sensitive manner by a rotating staff of volunteer healthcare providers. Medical Doctors, Nurses, Nurse Practitioners, Physical Therapists, Social Workers, Dietitians, EMTs, Mental Health Counselors, Dentists and Medical Assistants generously donate their time and make Vermont a healthier state for all.
The Open Door Clinic does it best to provide trained, volunteer medical interpreters, free of charge, for people who prefer to communicate in Spanish and some other languages.
Services
Acute and Chronic Care
Routine Physical Exams
Dental hygiene and referrals
Physical therapy and chiropractic
Prescription assistance
Diabetes clinics
Mental health support
Nutrition counseling
Lab and radiology services
Referrals to local specialists
Open Door Clinic – Middlebury
Clinics are held at 110 Porter Drive, Middlebury, VT each Tuesday evening from 5-8pm. We also offer a clinic one Friday morning each month, from 9am-12pm to accommodate those who work evenings. 110 Porter Drive, Middlebury, VT 05753