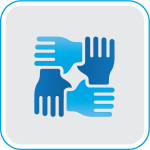 Our clinic is able to run efficiently and effectively because of our remarkable and talented 140+ volunteers.
Only through their kindness and generosity we can strive to provide our services.
Join this amazing team!
Healthcare Professionals
We are searching for volunteer medical professionals to increase our capacity for delivering healthcare to those in need. We are always looking for a wide range of specialists:
Physicians
Osteopaths and Naturopaths
Nurse Practitioners
Registered Nurses
Dietitians/Nutritionists
Physical Therapists
Chiropractors
Mental Health Counselors
Dentists
Registered Dental Hygienists
EMTs
Pharmacists
Application for MDs, DOs, NPs
Application For All Other Healthcare Providers
Medical Interpreters & Translators
Because over 50% of our patients are native Spanish speakers, we are always in need of people who are bilingual or highly fluent in both English and Spanish. Medical Interpreters facilitate the delivery of care and obtain first-hand experience with public health while shadowing a wide variety of healthcare professionals.
We also have a great need for medical translators. Nearly all of the medical providers in Addison County have intake forms that require translation into Spanish.
Application for Medical Interpreters and Translators
Administrative Support
We depend on a core group of volunteers who consistently help us with everything from preparing charts, surveys, and paperwork for clinic to greeting patients at the front desk and helping them get settled prior to seeing a provider.
Application for General Volunteers
---
If you have another skill set and think it would be beneficial to share with the community, please write us at
odc@opendoormidd.org
or give us a call at 802-388-0137.
Select the application above that's right for you. Fill out the paper work and fax (802-388-4498), email (odc@opendoormidd.org) or mail (100 Porter Dr, Middlebury VT 05753) it to us.