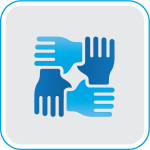 Our clinic is able to run efficiently and effectively because of our remarkable and talented 80+ volunteers. Only through their kindness and generosity we can strive to provide our services.
Depending on how you'd like to volunteer with us, the application process differs a little, as you can see below. We don't require that all our volunteers speak Spanish. But we do require that all volunteers attend a training before starting to volunteer.
Join this amazing team!
Healthcare Professionals
We are always searching for a wide range of medical professionals to deliver healthcare to those in need:
Physicians
Osteopaths and Naturopaths
Nurse Practitioners
Registered Nurses
Dietitians/Nutritionists
Physical Therapists
Chiropractors
Mental Health Counselors
Dentists
Registered Dental Hygienists
Pharmacists
If you are a medical provider, the volunteer application process has an extra step. After getting your paperwork, we need to apply for malpractice insurance with the federal government, a process that can take up to eight weeks, so we appreciate your patience. Your Tb test results must be current within two years, and there is no need to send your immunization records, just have someone from your primary care medical home verify that you are up to date using the appropriate listed form.
Please fill out the application available clicking the tab below, and send it to us with:
copy of current Vermont professional license
copy of current CPR or ACLS certification (if any)
copy of current driver's license or passport
clinical privileges delineation form (2 pages)
copy of current DEA certificate
Statement of Personal Fitness including results of TB test and immunization status
short narrative explaining any malpractice claims against you in the past 10 years
signed Volunteer Agreement Form
Medical Interpreters & Translators
Because over 35% of our patients are native Spanish speakers, we are always in need of people who are bilingual or highly fluent in both English and Spanish. Medical Interpreters facilitate the delivery of care and obtain first-hand experience with public health while shadowing a wide variety of healthcare professionals.
We also have a great need for medical translators. Nearly all of the medical providers in Addison County have intake forms that require translation into Spanish.
We prefer that external language evaluations come from Spanish language professionals with current knowledge of your language ability. This is often a Spanish language instructor, teacher or professor. You can send the form to your evaluator and they will email it directly to us, or, if you prefer, we can arrange for you to be assessed by one of our volunteer evaluators over the phone or in person.
Application for Medical Interpreters and Translators
Application for MDs, DOs, NPs
Application for General Volunteers
One-Time Volunteer
Would you like to create an ODC fundraising campaign on Facebook for your birthday, anniversary, graduation or another special celebration, or maybe to organize a fundraising event in your community?
Or maybe you would help us collect signatures for Addison County town's petitions, or to march with us in the Memorial Day Parade?
We look forward to talking to you! Write us at [email protected].
---
If you have another skill set and think it would be beneficial to share with the community, please write us at [email protected] or give us a call at 802-388-0137.
Select the application above that's right for you. Fill out the paper work and fax (802-388-4498), email ([email protected]) or mail (100 Porter Dr, Middlebury VT 05753) it to us.